Paystubs are electronic and can be found online through your HR Pay account.
1. Log into your HR Pay account.
2. Click the Payroll Dashboard tile.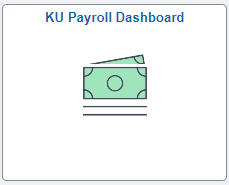 3. Click the Paychecks tile.

4. Click on the paycheck row for the paystub you wish to view.
Paystubs open in a pop-up window.
Current paystubs are typically available the Monday before payday.
You can filter the results within a date range by clicking on the funnel on the top left of the list.
You can sort the order of paychecks by clicking on the up and down arrows on the top right of the list and selecting the order choice.

Find your State of Kansas ID
Your State of Kansas ID (SOKS ID) can be found on your pay stub.  The SOKS ID begins with a capital letter followed by 10 digits. 
At the top of your pay stub, the box on the left shows your name and address.  The next box over shows your employee information.   Your KU Employee ID is listed first. Your State of Kansas ID is listed as SOKS ID and begins with a letter.